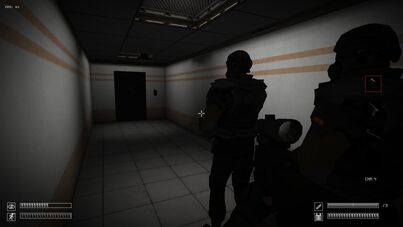 The player, referred to as 'MTF Unit [REDACTED]' in game-over screens, is the playable Nine-Tailed Fox operative in the SCP: Containment Breach Nine Tailed Fox Mod, accompanied by two fellow operatives.
As seen in his first-person model, unlike his squad members, he wears grey fatigues and black fingerless gloves. He spawns with an FN P90, a USP Tactical, a crowbar and a gas mask.
Soundboard
Edit
These commands can only be given in Channel 4 (the MTF channel) on the radio (you can switch between channels by pressing 'E')
" SCP-173 Spotted "
" You, stop! "
" Stop right there! "
" Hey, hey halt! "
" Go on, look for 'em "
" Come out you bastard! "
" Come out! "
" Perfect... let's try harder next time, that's all I've got to say "
" Look he ran away, (sigh) whatever I guess he won't matter too much "
" Nine-Tailed Fox to Control, requesting disabling of Tesla Gate nearest to our position "
6. SCP-173 containment box
" Alright, let's get to the containment chamber with this cage, I don't wanna spend anymore time near this thing "
" (sigh) Alright that was enough of a hassle, now let's get back to the containment chamber "
7. SCP-173 contaiment chamber
N/A
8. SCP-173 inside containment
" Nine-Tailed Fox to Control, we've contained SCP-173 and we're moving on to the next objective now. Out "
" Nine-Tailed Fox to Control, we've contained SCP-173 in it's containment chamber, we're proceeding with the next objectives. Out "
" Kill confirmed... go on let's move out"
" Um... yeah, he's lifeless alright... geez I wonder what he did to become a Class-D "
" I really wish we didn't have to do this but... whatever, come on let's go "
You can access the soundboard by pressing 'X', this is can be changed in the Controls settings.
The player is voiced by undead003 (and thus, has a Swedish accent).
The player has 200 health points, because of the kevlar vest giving the player an extra 100 health points.
The voice lines will be more clearer if the Gas Mask is not equipped
Community content is available under
CC-BY-SA
unless otherwise noted.