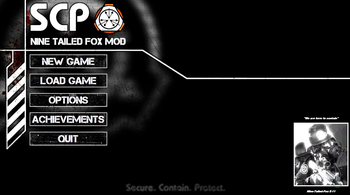 The
SCP: Containment Breach Nine Tailed Fox Mod
is a fan-made modification of
SCP: Containment Breach
. A work-in-progress, its first build was officially published August 2015 on ModDB (click
here
for the official page). It is being developed by Third Subvision Studio.
The player controls a Nine-Tailed Fox operative as opposed to a Class-D, making the game more of a first-person shooter (FPS) rather than a survival horror. Currently (v0.1.1), the NTF mod supports SCP:CB v1.2.4 which is outdated.
Intro
The Player and their two fellow operatives land at a remote Canadian containment facility via a helicopter, discussing the operation beforehand. After the helicopter drops them off, they march into the facility via Gate A's elevator, beginning their mission of recapturing all escaped SCP's in the Entrance Zone. 
NOTE: As of v0.1.1 the intro sequence will cause the NTF Teammates to stay in the elevator and not move when loading into the facility, to solve this simply disable the intro sequence 
Gameplay
The player's objectives are to navigate the facility and recapture any SCPs and terminate any rogue Class-Ds they spot. Currently, the only containable SCPs are SCP-173, SCP-106 (via femur breaker) and SCP-008. By default, the player is equipped with a Gas Mask, FN P90, USP Tactical, and a crowbar. The player can open up a soundboard by pressing 'X' to communicate with their teammates or disable Tesla Gates
Credits
Go here for all those involved in this mod's development.
Achievements
Go here for all achievements in the game.
Armor
The mod adds a health bar for kevlar vests, to see more see this page.
MAVs
Go here for information on MAVs.
Updates/Patch notes
This version of the game was released on October 2nd 2015
- ported this mod from SCP:CB version 1.1.5 to 1.2.2 - bugfixes:
 * the guns shouldn't be invisible if you respawn using the "Load Game" button (after death)
 * changed Apptitle to it's real version (in 0.0.2 it was 0.0.1, now it's 0.0.3)
 * the death messages should now call the player "MTF-Unit [Redacted]" instead of "D-9341"
 * command "ntf help" got changed to "ntfhelp", so the command can be typed now without getting the message
   "Command not found"
 * hopefully 035, 049-2 and the nazi don't have white textures anymore
 * the "P90 lagging" bug should be fixed now (the texture "p90_Tex_0005_1.jpg" had a size of "2048X2048",
   now it has a size of "1024X1024")
 * hopefully the corpses and GateB-Skybox won't show the "missing texture" anymore
 * "room2gs" and "room3ct" are now RMesh files (hopefully this will fix some more lagging bugs)
 * reduced the polygon count of all the guns (ViewModel and Item Model)

- added ClassD NPC:
 * they are just attacking you (and can kill you), currently not having a very good AI
 * you can kill them (I think everybody waited for that)
 * currently not spawning, to spawn one, type "spawn d2" into the console

- added a lot of ambient sounds (by "revo794") - a lot of improvements to "room3ct" (by "Vane Brain")
 ###########################################################################################################
 #CURRENTLY THIS ROOM ISN'T PRESENTED IN THIS VERSION DUE TO LAGS, A UPDATED VERSION WITH IT WILL COME SOON#
 ###########################################################################################################

- the INI files for the new Materials and Rooms are now in the seperate folder "NineTailedFoxMod\Data\" - improved the StrictLoad-Functions
 * hopefully another lagging cause bug will be fixed by that
 * if a function is returning an error and the "Disable Console Auto Opening" option has enabled, it will
   inform the users that a error/many errors happened (it will show how many errors occured before the
   console has been opened)

- new rooms added
 * "room2gw","room3gw","room1lifts","room2servers2" by "Vane Brain"
 * "room457" by "ENDSHN"

- added SCP-457 NPC:
 * it can be found inside the "room457" room (down the tunnels)
 * currently has a WIP model (106's model with a black texture + burning around him)

- changed Player step-sounds (by "revo794") - new loading screens
 * "FN P90", "SCP-457" by "Vane Brain"

- changed the gun-rendering slightly
 * this will hopefully fix some lagging bugs too

- changed the player's voice (they are filtered rather than having the radio effect applied) - disabling a Tesla Gate works now (still WIP, but you can disable them at least :D ) - you already have a built-in radio (headset), you can toggle between the channels 1-5 by pressing "E" - you can only use the "voice-commands" if you are on Channel 4 (the MTF-Unit channel)
released on January 18th 2016 - new Intro added
 * programming made by "ENDSHN"
 * room modelling made by "Vane Brain"
 * voice lines made by "Arseny" and "ENDSHN"

- added following SCPs:
 * SCP-1162
 * SCP-1499
 * SCP-109
 * SCP-198

- added more events to the game (random sound events, over events still WIP) - MTF Units now have a fixed AI
 * they can now walk around and they also can interact with some SCPs (not 100% done yet)
 * they shoot at Class-Ds and they can kill them

- improved the guns
 * P90: It's having a scope
 * the gun animation now got improved a bit

- added manual lighting:
 * all objects except the map will be brightened up by the lights inside the rooms

- remixed the SCP-457 Theme a bit (extra sound effects in the background of it) - more ambient sounds by "D-7650" and "revo794" - added SZL feature (Seperate Zone Loading)
 * currently WIP, will be fixed partially every update
 * if your game should not work properly then disable the feature in the options
 * will not have any effect on custom maps!

- new Menu design
 * new options screen
 * achievements menu

- achievements will now be saved at the end of the game - added some new achievements to the game (not all of them can be unlocked) - added random appearing sound-events
 * sounds made by "revo794"

- improved the player's voice
 * the lines now depend on if the player wears the gasmask or not

- new rooms added (room2scps2, room2offices4, room3offices and room1162)
 * all made by "Vane Brain"

- room3ct got now readded! :D (thanks to SZL feature) - changed the KeyCard textures (by "Anon4743") - bugfixes:
 * decreased the polygon count of the guns another time
 * deleted some surfaces from the gun's viewmodels
 * the corpse in "room4tunnels" now got moved away from the middle
 * ambient sounds won't be loaded in memory, instead they will be loaded seperately
 * fixed some misaligned textures in "room2servers2"
 * fixed the video quality at the beginning of the game (Thanks to "Vane Brain") :D
 * room3gw should now appear in Zone 3 rather than in Zone 2

This is a patch for v0.1.0 so the apptitle in windowed mode will still say 'SCP Containment Breach MTF Mod v0.1.0' and it was released on January 19th 2016.
- fixed the MAV crashing in-game (bug with the ClassD spawning code)
- SCP-109 and SCP-198 should now display the icons
- after the Intro, props and other models should now have the correct Brightness values
- added some doors to Gate A Intro
Coming Soon (estimated release date: January 2020)
Features revealed so far [Contains a spoiler]:
-new map algorithm to generate maps, each zone will be the size of an entire normal map in the original Containment Breach game
-new scope, recoil and movement delay added for the FN P90
-MP5K (submacine gun) and SPAS-12 (shotgun) added
-hitboxes added for SCP-049-2 and SCP-939
-invincible Class-D glitch fixed
-MTF teammates now follow the player
-New checkpoint design, so each zone is separated by an elevator
-Weapons are now equipped from the Player's inventory (quick select has been added to switch between weapons quicker)
-SCP-035 will have already been released and will not be present in his containment chamber as D-9341 will be implied to have already been there before the NTF entered the facility
Bugs (as of v0.1.1)
For information on bugs, visit Known Bugs
Third Subvision Discord Server
Here you can ask the devs for info about the NTF Mod or just chat about whatever you want. https://discord.gg/QRQS2Mz
Community content is available under
CC-BY-SA
unless otherwise noted.