The USP Tactical is the
Player's
secondary weapon in the
SCP: Containment Breach Nine Tailed Fox Mod
. The player spawns with 3 magazines for the USP Tactical just like the
FN P90
however, it has 12 rounds inside of each magazine rather than 50 rounds. This is likely due to the fact that the USP Tactical is a semi-automatic pistol while the FN P90 is a submachine gun.
It is one of the items they start off with.
You can switch between weapons by pressing 'Q' (customizable in 'options').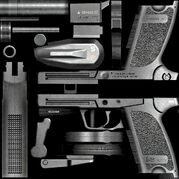 Community content is available under
CC-BY-SA
unless otherwise noted.